Click Spamming – Mobile Ad Fraud: Everything a Marketer Should Know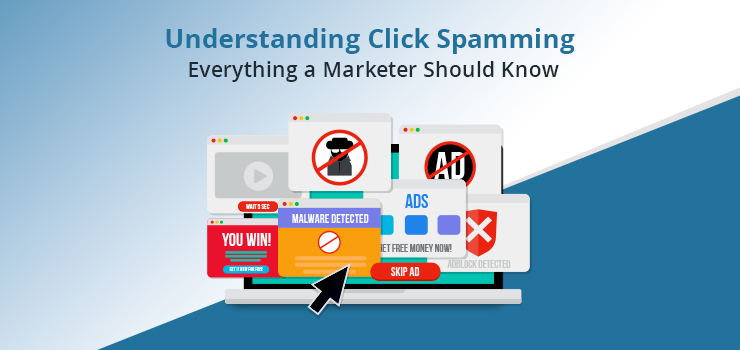 Except for the impression, almost every other target in mobile marketing involves click. Recent trends have indicated that advertisers are shifting their focus from impressions to engagements and conversion. Hence, click-based ad models attract more incentives and opportunities. Since every click makes for the paycheck, click spamming is what marketers should be aware of.
In this blog, we will share details on:
What is Click Spamming?
Click Spamming is 'clicks on behalf of the users without their awareness'. It broadcasts a large number of clicks to gain the attribution for the ad clicks, app install, and various other metrics.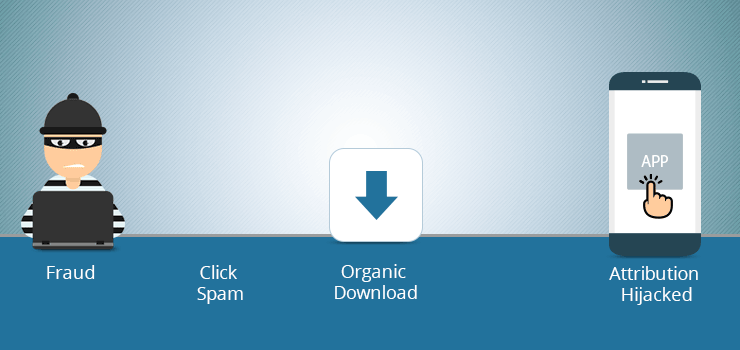 Types of Click Spamming
Usually targeted where the reach to the users is low. By throwing a large number of clicks, the attack aims to increase the chances of hijacking the install attributions. Bots, malicious apps, and click farms may execute such fraud to claim credit for the link and hence, make money out of it.
Mostly, these are random clicks with the hope that they may match with the timing of some organic clicks and therefore, be able to take the credit of the install. Such clicks may keep running in the background and users would not even be able to know about the actions caused by the clicks.
The low frequency of click spams target the ads with large audience reach and is aimed to hurt the advertising performance with factors such as ad score, overall ROI, etc. Such frauds may be executed by your competitors.
Why You Should Care?
Most importantly, because it hurts your budget.
Campaigns plagued by click fraud will mean that you will have to pay for the organic installs. Your ROI on the advertising campaign can take a substantial hit as click spam alters your attributes. So, it can impact the planning and strategies for future campaigns as you may continue spending on fraudulent media sources.
As click spam executes click without the awareness of the user, it can disturb user experience to push the customer away and also impact your brand reputation. Combating the mobile ad frauds like click spam can earn you higher ROI and also save you from the embarrassment.
How to Detect Click Spamming?
Look for the Metrics Skew
Click spamming can skew your metrics in a way to claim the organic installs of your marketing campaign. If you can closely follow the patterns of the download, you can find the anomalies that indicate the occurrence of the fraud in attributions.
Attribution data holds all the answers that you need regarding your campaign performance. However, depending on the size of the campaign, the number of media sources involved, etc., it could be a herculean task to detect the frauds manually. So if you are running a large-scale campaign, it is recommended to opt for an adequate team along with proper tools.
Opt for Fraud Detection Solution
Fraud detection solutions are programmed with algorithms that can identify the fraud instances in the install attribution. It can save you a lot of time, effort, and expenses by automatically detecting and listing the fraud scores of different media sources. With this information, you can block those sources to better channelize your campaigns.
Some of such fraud detection solutions are available 'as a service', which means they run on the cloud. So, you can integrate them with your live campaigns and track the fraud activities in real-time. mFaaS is one of such mobile ad fraud detection and mitigation tools with the feature of tracking the frauds in the live campaign as well as scrutinizing the historical data to detect the old cases of the frauds.
Wrapping it Up
Fraud has been hurting the marketing professionals at various levels. Different sort of frauds, such as ad stacking, click injection fraud, in-app event fraud, and several others are causing unwanted alterations with attributes while hijacking the quality score of performers. Eventually, your ROI struggles.
There is a lot that you can do about it. Protecting your campaigns from such frauds require a proactive as well as reactive strategy. Proactive means that your campaign should have specific actions in the plan to avoid various frauds. For example, you should avoid running ads on the media sources that blacklisted or have a dubious track record. Reactive would require you to be prepared to take immediate steps in the live campaign as and when any fraud is identified. So you can't just start a campaign and hope that it won't face any dents from frauds.

* You may use the content of this blog for non-commercial information purpose with proper reference.