Event Fraud In Apps: Know Ad Fraud & How To Protect Your Campaign Against It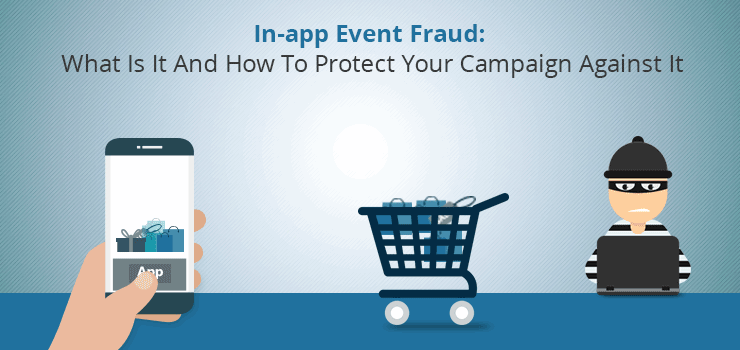 The mobile industry witnessed an unforeseen growth in the last decade. With the disruptive number of consumers available on mobile devices, the businesses, advertisers, and publishers had to come up with apps, which gives them a better opportunity to deliver a personalized experience to the customer.
According to Statista, 205.4 billion apps were downloaded in 2018 and the figure is expected to soar up to 258.2 billion by 2022. Along with that, mobile devices account for the largest share in e-commerce sales as well. During Black Friday and Cyber Monday Weekend in 2017, mobile sales constituted for 64% of total sales for Shopify merchants. All these stats signify the growing importance of mobile apps and the competition in the market.
For businesses to maintain the attention of the users and gain more sales, in-app events play a critical role. An organized approach with the events in the app can help you deliver custom solutions to the users, helping you drive more sales.
In-app Events
Once your app is installed successfully, you get the permissions to access the user activity and their preferences in an organized way. Post-install events (such as marking an item as a favorite, adding to cart, making a purchase, etc.) are in a way different stages of your sales funnel. They are critical in understanding the user value, behavior, and other factors to determine the performance of the app. Tracking of in-app event impacts your future ad campaigns, in-app notifications, marketing plans, and even your sales pitch. In simpler words, your business strategy depends on the way you gather and utilize the data of in-app events.
As the different events can be compared with different stages of the sales or marketing funnel, you can use the advertising campaigns to warm them from one level to another. This is where the ad fraud named In-app Event fraud comes into the picture.
In-app Event Fraud: What Is It?
When an in-app event like 'Add to Cart' is executed without user's awareness then it is an in-app event fraud.
A malicious app installed on the phone can execute events in your apps without any conscious action of the genuine user. The malicious app resides quietly till it sights the opportunity to cause an in-app event, which could be something like completing a tutorial, adding a product to the cart, watching an in-app ad, etc. and then it throws click or a series of clicks to effectuate it.
Usually, such events have monetary incentives for media sources. So, it bites on your pocket while manipulating the actual attributions becoming a catch-22 where you are where you end up paying to the wrong media source, while such an event getting a sales conversion is almost unlikely. Depending on your app's functionalities, the possible number of events can be endless, which mean an endless possibility of fraud.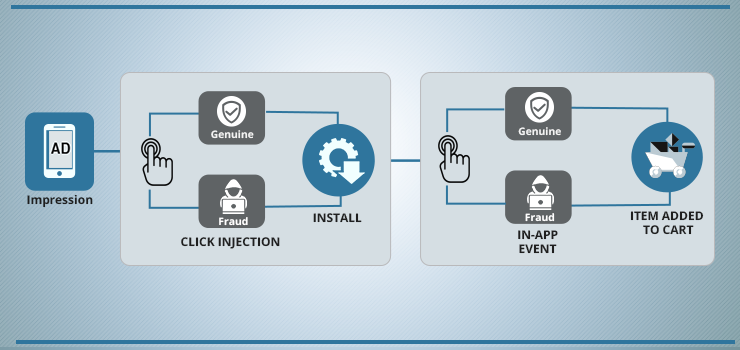 The process involved in in-app event fraud is similar to the click injection fraud, which also relies on a malicious app to execute the fake click. It is even possible that if your app is facing in-app event fraud, then it was installed on that device with click injection fraud.
Effects of Event Frauds In Apps
Since your real user has nothing to do with the events, attributions availed won't tell the true story of your app performance, user behavior, and other metrics that you wish to track.
As some of the actions in the app are performed without the permission of the users, they may find it annoying, which can lead to even making them uninstall it or share a poor review.
Advertising for the in-app events is amongst the most expensive ones in the mobile ad segment. Compared to install or register, some events that are closer to the purchase step can easily be more than 10 times. However, such events rarely convert into sales, and you will be paying too high for nothing in return. Your ROI calculations will look gruesome.
How To Deal With In-app Event Fraud In Mobile Ads
Here are critical steps that you can take to put a check on mobile ad fraud in your app:
Performance data of your app has most of the answers readily available for you. Metrics such as high abandonment rate at any particular event and high conversion at another is a strong hint that there could be something fishy.
You can also compare the in-app event performance of different media sources for similar user genre. A significant difference between the two is a sign of fraud as the same user-base is expected to follow a similar pattern.
Manual auditing to detect fraud can be a cumbersome task. For the marketers who are working on multiple campaigns, it is better to opt for mobile ad fraud detection tool that can audit the live campaigns as well as historical data to find any kind of fraudulent activity. So, you can quickly take the needful step to mitigate it.
Machine learning based solutions are capable of identifying complex fraud attempts. Apart from listing the fraud scores of different media sources, it can keep improving the methods of recognizing fraudulent data patterns.
You can even avail a free trial of mFaaS for your advertising campaign. Get in touch with us now.
Stat References

* You may use the content of this blog for non-commercial information purpose with proper reference.