Mobile Ad Fraud | The Real Fight Begins With Greater Vigilance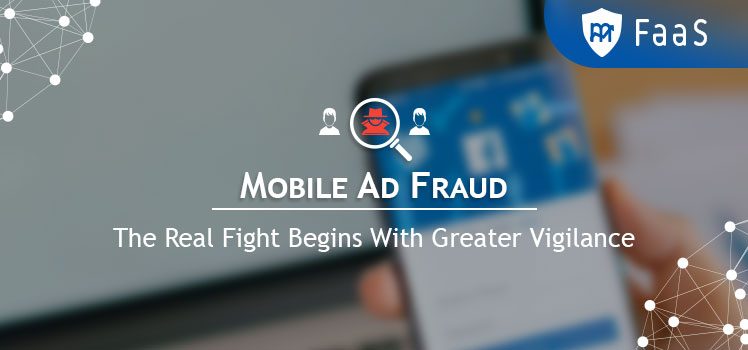 'Mobile Ad Fraud' continues to be one of the most discussed topics amongst marketers this year.
As far as market predictions go, The Bot Baseline: Fraud in Digital Advertising 2017 Report which was released by ANA recently, reveals that the global loss in economic revenue is estimated to reach $6.5 billion in 2017.
Be it the rising cases of click fraud, install fraud, automated bot traffic or other types of fraudulent activities, marketers have been on a constant look out for a solution that helps them up their vigilance and safeguard their campaigns against such fraudulent activities.
Speaking of vigilance, even the Interactive Advertising Bureau (IAB) had recently made it mandatory for all its member publishers and technology companies to be registered with the Trustworthy Accountability Group (TAG) to ensure the continuation of their membership with IAB.
In fact, 'walled gardens' such as, Google, has also been secretly running some tests by partnering with a few media companies through an industry initiative called ads.txt. This initiative is particularly targeted at checking for fraudulent activities like Spoofing, which has seen a rise with the popularity of programmatic advertising, where ad inventories are placed by algorithms and purchased on ad exchanges. Now, Spoofers usually engage in fraud by buying cheap ad space from a low-quality site and then, selling it at higher rate by falsely listing it as ad space on a premium site. This way most advertisers get tricked into paying for an ad space, which they don't really get at the end of the day.
While running these tests, Google and its team had briefly suspended their programmatic ad inventory and then, checked them against the current listings on the ad exchanges.
Recently, Google also had to issue refunds to advertisers over fake traffic for that ads bought through the tech giant's 'DoubleClick Bid Manager'. Needless to say, Google is taking mobile ad fraud very seriously.
THE SOLUTION FOR AD FRAUD
The road ahead is full of bumps and clearly, even the big players in the industry aren't spared from the ad fraud menace.
While the entire mobile advertising industry is leaving no stone unturned to find a permanent solution to the ad fraud problem, what marketers need to understand is that  – greater vigilance and transparency for their mobile campaigns is the most bankable solution. They should start monitoring certain downstream metrics to facilitate the micro-level identification of suspicious traffic sources and avoid burning money on clicks.
Our product team at mFaaS understands this critical need for vigilance while running mobile marketing campaigns and has been involved in thorough R&D to help pinpoint the most suspicious sources, patterns or mechanisms leading to fraud. This has helped in the identification of the most vulnerable spots of the advertising ecosystem that's offering a freeway to ad fraud and thereby, devise a product that is geared up to meet the challenges posed by ad fraud.
REAL-TIME FRAUD DETECTION WITH mFaaS
mFaaS is a real-time fraud analysis platform, which helps marketers identify and take action on any fraudulent activities occurring in their mobile marketing campaigns. Our platform has interactive tools to identify the fraud on run-time as per various in-built machine learning algorithms derived from research on 15+ reason codes. These 15+ reason codes have been found to be the main reasons for the prevalence of fraud in the global mobile adtech industry. With the data-intelligence of millions of globally blacklisted IPs, sub-publisher-ids, hashed-device-ids, and others, mFaaS can help marketers and app owners evaluate their traffic quality across multiple parameters like checking for bots, device spoofing, ip pools, defunct ips, click spamming, emulators, ad stacking, etc.
KEY FEATURES OF m-FaaS
SDK/API:

Easily integrate your app or data source with mFaaS

Consoles:

Easily configure app specified fraud thresholds, blacklist settings, etc.

User Friendly Dashboards:

User-friendly interactive dashboards highlighting the quality of traffic and intuitive interface for pinpointing the fraud scores.

Configurable Reason Codes:

15+ reason codes available with levers for configuration of reason codes like TTI, geo mismatch etc., which are app and geo sensitive

.
Blacklist Dashboard:

Add fraud sources to blacklist for Postback blocking. Interactive blacklist reports for 360* performance of the source of traffic
8 ACTIONABLE REPORTS TO DETECT FRAUD
To ensure that marketers have full transparency and control over their marketing campaigns, mFaaS provides 8 specific reports.
1) Conversion Fraud Score Report : Showing the conversions from different publishers and their fraud score based on different parameters
2) Time to Install Report: If the average time between the click and install varies significantly – either happening too quickly or taking too long, then it hints at something fishy. So, this report helps marketers by showing the real click to install time for the conversions.
3) IP Frequency Report: If you start getting abnormally high installs or conversions from certain IP addresses, it does not mean good news exactly. In fact, this could be some fraudulent activity. Hence, comes our IP Frequency Report. With this report, marketers can identify the number of installs/ conversions relating to a specific IP address for a particular campaign having the same publisher over a period of time.
4) Invalid Device Report: When device IDs are hashed for a multiple number of times, it could indicate the presence of fraudulent activity as in this case, the same device gets attributed to the advertiser for multiple times and the traffic comes disguised as exclusive or unique in nature. With our comprehensive study of commonly used hashing strategies, we have made this report to help advertisers detect such instances of fraud.
5) Organic Stuffing Report: This report highlights the number of hijacked organic installs in a campaign along with their sources after the verification of their referrers.
6) Incent Fraud Report: Sometimes your marketing campaigns might show signs of unwanted incentivized traffic and you may not even be aware of it. That's why we offer a specific report to identify incent fraud, which highlights the mixing of incentivised traffic in non-incentivised campaigns.
7) Anonymous Installs Report: Report highlighting conversions with no device ids or coming from VPN, Proxies, Tor networks, and public networks.
8) Ad Stacking Report: This kind of fraud can occur from the publisher end, where several ads are stacked together in a single ad placement in layers but only one of the ad is visible to the users. Now, if some user clicks on that visible ad, it gets added to the click count for all the other ads that lie underneath the visible ad. The fraud algorithms of mFaaS detect such instances of fraud in real-time and then, makes it available for advertisers in the Ad Stacking Report.
mFaaS Dashboard
Want to learn more about mFaaS?
Drop us a line at mFaaS@mtraction.com and let's schedule a FREE DEMO for you.